The computer got stuck during importing the pictures, so good thing I had imported some pictures to facebook before uploading to the computer, or else all evidence of baking would be erased!
First, I made 4 loaves of blueberry banana quickbread.
It's a great recipe from "The Sweeter Side of Amy's Breads" which I have checked out from the library. It uses fresh blueberries (can substitute frozen, but would need to add more flour to soak up the juices) and bananas of course, as well as oatmeal and then the usual fare - eggs, oil (not too much), salt, baking powder, sugar and flour.
It's a really nice quickbread and one loaf was devoured by midafternoon Saturday, one given to a neighbor for their housewarming party. Third loaf eaten on Sunday and now the 4th loaf is being cut into today, Monday.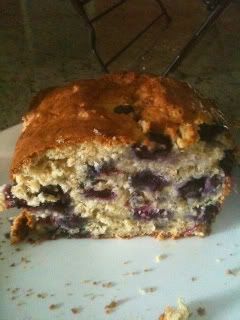 Saturday morning I started the preferment for the Pain de Campagne (French Country Loaf) for round 2. Maybe this time I could make it better with some tricks that had been mentioned on the bread forum. First, I didn't use hot water, but warm water to mix with the yeast. Second, I didn't let it ferment as long because we had turned off the air conditioning and my kitchen was a warm 80 degrees.
The first rise is stated to be 3-4 hours to double. I let it rise 2 hours (busy making dinner, eating, getting that somloi galuska dessert ready and then eating that!) I looked, and it had TRIPLED in size in those 2 hours. Oops!
I punched it down and shaped it. The next rise was supposed to be 2-3 hours. After 1.5 hours, I decided they should go in. I did the poke test and it seemed right, but when I went to score/slash the tops of the first loaf, I deflated it. Man, I had overproofed AGAIN. So, this time, I punched it down, reshaped it, and let it re-rise again. However, without slashing, I put the other loaf in the oven. After only 20 or 30 minutes of rising, I put the other in the oven too - really afraid it would be a brick.
Surprising to me, I got oven spring - which means my loaf grew in the oven. I haven't had that before... Hmm... interesting.
And
that loaf didn't lose it's shape. Wow! But was it a brick.
I pulled the loafs out of the oven as they were done and set them out to cool. I would cut into them in the morning to see what we got.
This is how it looked... big difference: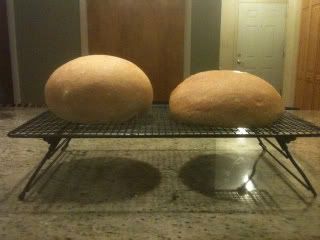 Next day, we cut into both and did a visual inspection, a taste inspection and a texture inspection. Both were good, but we all agreed the rounder one (the one that had been punched down a second time) had a better taste, a slightly better texture, and the shape was great). Made for great sandwiches for lunch: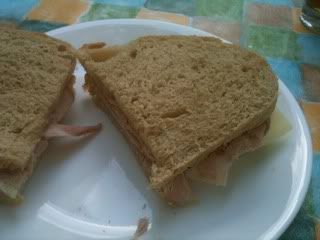 Even my youngest couldn't put it down (and he's the pickiest eater on the planet):
Those loaves got cut into on Sunday morning, and by Monday morning, one loaf is gone and the other is a 1/3 gone. Which means, I'll be baking again by Tuesday.