Today has been a weird day. I feel a bit crappy, but I had this fermented starter in the fridge that was begging to be used before it went bad, so I got my butt in gear and made the bread.
That I didn't feel well, made me rush things, but also it's an experiment of sorts. Since my winging it recipe turned out great, I decided to kind of do that again. I had the starter, which I used in its entirety, and then I added the recommended water and salt. From there I added a bit of bread flour and a bit of white whole wheat flour until the dough had the right consistency. I let that sit for an hour in which time it doubled in size. I got my brotform, floured it and then let the dough rise again.
What's a brotform (also called a banneton or proofing basket)? It's a basket for proofing dough. Looks like these in this link:
Brotforms
(I didn't buy from here, but they show good pictures).There are a couple reasons to use them. The most useful, is that they help keep the dough ball shape/round. Second reason, is that if you use them without a couche, (flour soaked linen), you get interesting designs on your bread. I've had these brotforms for years, but the only time I tried it, my dough got stuck to it, even though it was well floured, and ruined it. I had to punch down and let it rise again. Since then I was afraid to use them. But, as always, there's a trick to keep things from sticking and that is to dust/flour them with rice flour. Rice flour is like teflon, the bread slides right out.
Back to the story. Well, I have two brotforms, but for some reason, I decided to just make one big loaf and put all the dough in one basket. Probably not a good idea as in an unrisen state, it filled the basket about 3/4s. But, I forged ahead anyway. I started the oven, and 30 minutes later, I put the dough in.
I know this is too soon, but my dough was already getting over the top of the brotform. I wasn't feeling well, and the last time I let it rise longer, it became overproofed. So, I got a piece of parchment paper (reused it from last time), placed it over the basket, got my
epicurean pizza peel
, placed it over the brotform, grabbed the basket from below while still holding the peel, and flipped it all over. I removed the basket, and like magic, it slid out - phew!
Now, to score the loaf. Again, no problem. I can see the loaf is very quickly sliding outwards as it's a really wet dough, but everything is ready, so I quickly get to the oven, slide the bread and parchment paper onto the baking stone, pour one glass of water until the cookie pan below and closed it up to see how it would go.
This is how it looked when I put it in the oven: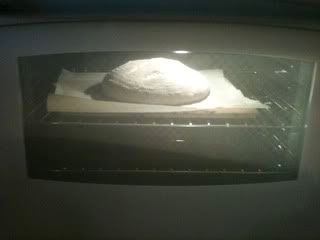 Ten minutes later:
And then done: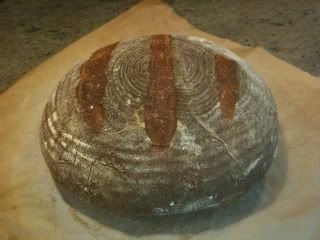 It looks great, but... I'm a bit worried. This is supposed to make a HUGE loaf - like 12" wide. Mine is 9". This one loaf normally two loaves. It's
maybe
one and a half times bigger, but it could be only one and a third bigger.
Again the moment of truth is waiting for me - how is the inside? Will I get a brick? Sure hope not! I'll update the results later. Keep your fingers crossed for me.
I was at first convinced it was going to be a brick. Even slicing in, it seemed a bit dense, which it probably is a bit, but it's very tasty and has a very nice texture. The kids devoured a couple slices and my mother in law gave a stamp of approval, so I am getting better with each loaf.
And the crumb as they call it. It's like a memory foam mattress - you squish it, and it bounces right back in a very pleasing way. Though I think it must taste better than memory foam!