Last night we ate the Sachertorte. It was delicious. A bit rich for me as I'm not a big chocoholic, but it was good. The cake portion had the right density, the filling was flavorful and the glaze was good. The glaze though is what I would change the next I make it (if I make it again). It was exactly how this recipe (and pictures) showed it should be, but it's not true to how it should look/feel. But, that's probably the easiest thing to fix - just need a different recipe!
And, because my mother in law is the way she is, said while eating my sacher torte what I predicted she would say, "The best sacher torte I ever ate was..." Ah... I know her well. She was a killjoy last night though. Something came over her at dinner that spoiled everything, but oh well. We enjoyed despite her mood.
Then there is the making of the somloi galuska. I looked and looked at the recipe I have, and it didn't feel right and since I already saw that the recipe for sachertorte (at least the glaze part) wasn't close to authentic, I decided I should go with my gut. I looked online for other recipes and 95% of what was out there was the recipe from the book copied word for word. Then, I found a recipe (same one on several sites) which appears to be more true to the construction of other European cakes I know, so I went with that - I just following the book recipe for the construction, cream and other stuff. Oh, and another thing I didn't like about the book recipe is that it said it assumed most cooks wouldn't have 3 9x13 pans, so they made the cake recipes three separate recipes, where traditionally it's one base recipe, divided and then each prepared and cooked at the same time. It would have been nice if they would have said how to do it for all three OR all three separately. So, I just figured out how to make the base on my own, and then baked them at once instead of using the same pan for three separate batches.
This cake has a lot of components. I noticed on a couple of sites that it's rated as hard a 5 on a scale of 1-5, 5 being hardest. I think part of it is that American cooks aren't used to making cakes like this, but the other part is just how many parts there are! This picture shows 'most' of it:
Left to right: top left is the apricot preserves (boiled), bottom left is a rum syrup with lemon and orange zest (zests taken out for assembly), center left in the bowl is finely diced walnuts and raisins, then the three pans of very thin cake layers - one plain, one walnut, one chocolate, then in the far right, half visible, is the cream filling (in a ice water bath). This is everything that needed to be done to assemble the cake with the exception of cocoa powder which is sprinkled on top.
Assembly is first layer: walnut cake, syrup, apricot preserves, cream, nuts/raisins, Next layer is: chocolate cake, syrup, apricot preserves, cream, nuts/raisins. Top layer is: plain cake, syrup and then cream, then dusted with cocoa powder.
When assembled it looks like this:
It needs to chill at least 7 hours to get the flavors to blend, then, when it's time to serve, you take a 2.5 inch ice cream scoop and scoop 2-3 pieces per serving. You will also need to make a chocolate rum sauce and sweetened whipped cream to serve. That means, there are 10 components to assemble this dessert. Uses LOTS of dishes. When we serve it tonight, I will add a picture of the assembled and served dessert.
Few days later and I finally get a chance to use the computer! (Can't wait till our laptop is working again). Not much to look at, but there are the three dumplings, topped with freshly whipped cream and warm rum chocolate sauce.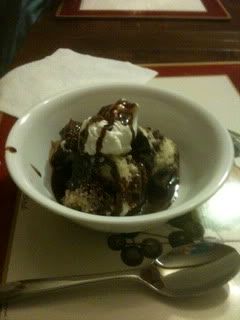 It really is a heavenly dessert. it melts in your mouth and the flavors are divine. Hungary knows how to make great desserts. And this dessert make one very happy mother in law. I even got a kiss and thank you - which is BIG.